After Builders Cleaning London
No matter the type of your property – flat, house or office building, any renovation like decoration, painting or changing windows, flooring, repairing in the kitchen or bathroom is a process accompanied by the awful accumulation of dust, dirt and other construction waste.
Almost everyone has encountered the problem when builders or craftsmen finish their job and leave the care for cleaning after repair behind. The basic cleaning after repair or after new construction is the last but most important step before you move in. We all know that the cleaning requires not only water and towel, but special tools, detergents, machines and a lot of TIME!
How much time do you need to clean yourself – a day, two or a week?
That's why we from VIP Cleaning offer the service Professional After Builders Cleaning, which will save you a lot of nerves and time, and the final result will be more than what you have imagined.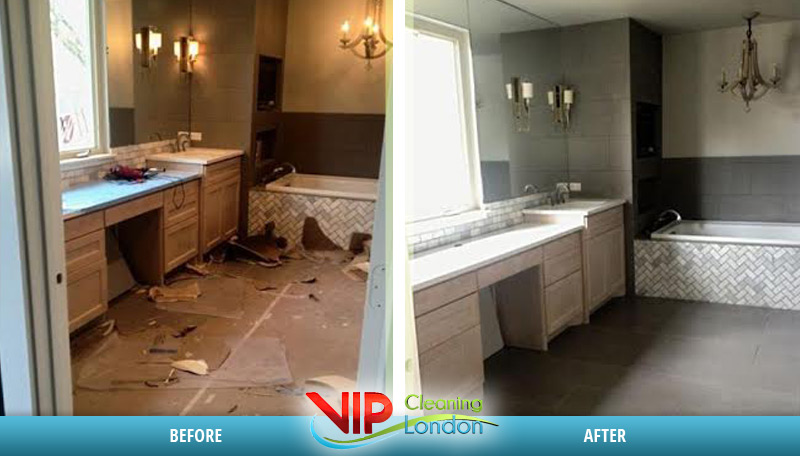 Cleaning after builders or construction mainly includes the following activities:

machine cleaning of soft floors and others – deep cleaning of carpets, sofas, mattresses, curtains (treatment of stains and stubborn dirt).
cleaning of hard flooring (granite, marble, terracotta, laminate, parquet, etc.)
complete dust removal of equipment
cleaning of railings, staircases and walls
machine cleaning of soft flooring
deep cleaning of bathrooms, terraces
washing and polishing of windows and window frames.
vacuuming and removing of mites from upholstered furniture, mattresses and carpets.
cleaning of furniture – removal of dust and other dirt
removing stickers, paint, latex from windows.
We do a complete cleaning of the rooms "turnkey"!
Why to choose VIP CLEANING LONDON?
We are proud to provide our services only on a professional level to achieve the best results in the shortest possible time. Our professional cleaners are fully trained and caring to the property they are entrusted with. Our advantages are:
– our cleaners are long-time employees checked and proven in the field
– we offer flexible pricing and maximum low prices
– we do cleaning even on holidays
– we use high-end ECO cleaning materials with low or zero side emissions!
After Builders Cleaning of the kitchen mainly includes the following:
cleaning and polishing all cabinets and drawers / top, outside, inside / removing of fats, dust, stains, scars and fingerprints
* cleaning the refrigerator and freezer / internal and external /
cleaning the washing machine / drawer, rubber seal ,door and disinfection /
dishwasher /internal and external/ and disinfection
cleaning the microwave / internal and external /
oven cleaning /internal and external/
cleaning of electric hobs and gas hobs
cleaning of cranes, sinks, lime removal, disinfection and polishing
cleaning the doors and crates from top to bottom
cleaning the fan and hood
* In order to clean professionally the refrigerator or freezer it is necessary 48 hours before the cleaning you to turn it off and get out the food and drinks from it.
After Builders Cleaning of bath / toilet mainly includes:
deep cleaning of the toilet and lid, disinfection
removing the dust and dirt from the top of the walls, ventilation openings, wall protrusions.
cleaning the sinks, sanitary faience, toilet bowls, accessories, etc.
wiping the dust and dirt from all horizontal and vertical surfaces
removing the dust and wash bases
disinfection and polishing the radiator, dressing table
polishing the mirrors
cleaning, removing limestone, disinfecting and polishing a shower, bathtub or jacuzzi
vacuuming the ventilation system
hoovering and mopping
After Builders Cleaning of the bedroom mainly includes:
wiping and polishing the frames, paintings, fasteners
cleaning the radiators
removing the cobwebs
hoovering behind and under the bed (if possible)
cleaning the windows and windows frames only inside. If you want to clean the windows outside, you can use our service: Windows Cleaning
vacuum cleaning of curtains, mattresses, backrests on the beds, carpets
cleaning of skirting
cleaning the switches and removing fingerprints
hoovering and mopping everywhere
At your request, we can perform internal cleaning and polishing of drawers and wardrobes but you must inform us in advance.
After Builders Cleaning of living rooms and common areas:
cleaning the radiators
cleaning, polishing, disinfection the table chairs
cleaning and polishing the TV equipment
vacuum cleaning the an armchair, sofa, pillow
moving all furniture / if possible /
cleaning the skirting
de-dusting the indoor blinds
internal cleaning of windows, window frames, sills
cleaning the switches and removing stains
cleaning the corridor and staircase
cleaning the skirting
cleaning all types of rails
cleaning of flight of stairs
removing cobwebs
removing the dust from lighting fixtures
cleaning and polishing mirrors
hoovering and mopping
Price for After Building Cleaning:
The time and cost of cleaning strongly vary from many factors, but the main ones you must consider are:
– whether you live in the property
– size of the property
– number of rooms, bathrooms (toilets, bathrooms)
– whether your property is furnished or not
– whether you want to clean external parts
– whether you want complete cleaning.
If you want to provide your own detergents and cleaning materials, please contact our associate.
Please note that our cleaners do not throw away large garbage or other bulky building material!
In case that your property is in an extremely bad condition and you haven't informed us in advance, it is completely likely we to fulfill one of these actions:
– to refuse the service and you must pay us £ 30 compensation;
– the hours of cleaning can be increased to achieve the required result.
Dear customers and our regular friends, keep in mind if you want us to provide with the professional and cleaning tools you need, such as vacuum cleaner, mop, professional microfibres clothes and other cleaning products/detergents.
When you making a reservation at the beginning, please discuss it with our call operators.
In case that you still insist your home to be cleaned regardless of the bad condition we will charge you double price!
In order we to be as useful as possible for you, contact us for further information on the phone 020 71 938 444 or email address office@vip-cleaning-london.com
Payment:
The payment can be done in the following two ways:
Bank transfer – 48 hours before the service. (Bank details will be provided)
Cash payment – on the same day after cleaning or pre-payment or at an office of the company on request.
After the payment we can send you an INVOICE to your email address or to a physical address.
Areas:
VIP CLEANING LONDON has a huge number of mobile teams across all areas:
EAST LONDON
WONDER LONDON
CENTRAL LONDON
NORTH LONDON
SOUTH LONDON
For clients residing in central London, there is an additional CONGESTION CHARGE – £ 12.
For clients outside the city of London there is an extra charge of £20 for transport cost.
Securing parking or permits for our service cars is a must.
We have logistics centers in the areas listed below. These areas can be serviced as quickly as possible from our staffs.
N7 – Caledonian Road, Holloway Road
NW3- Swiss Cottage, Finchley Road, West Hampstead, Finchley Road & Frognal, Belsize Park, Chalk Farm
W5- Hanger Lane, Park Royal, Ealing Broadway, Ealing Common, South Ealing
SW6 – Fulham Broadway, Putney Bridge, Imperial Wharf
SW12 – Balham
SE14- New Cross, New Cross Gate
E3 – Mile End, Bromley-by-Bow, Dovens Road
N16- Rectory Road, Stamford Hill
N22- Wood Green
NW1-Regents Park, Warren Street, Marylebone, Baker Street, Great Portland Street
W2- Bayswater, Hyde Park Corner
EC2 – Moorgate, Liverpool Street